Red Wing Recall- Chatter Instructions

This online space will exist on SalesForce Chatter and is free for all Red Wing Shoe Retailers and Dealers to use. Instructions on how to sign up are included below.

As a member of this group you will have access to important recall documents such as copies of the affected product list, copies of unsold inventory return instructions and more. You will also be able to directly ask questions that will be answered by Red Wing Shoe Company's management team.

This online space will be monitored by Red Wing Shoe Company's voluntary recall steering committee, as well as by the sales and operations staff from the company. In short, this online space gives you a place that will constantly be updated with the latest information regarding the recall, a place where you can quickly get questions answered, and a place where you can speak with fellow Retailers and Dealers.

Thank you for your attention and we look forward to furthering our communication with you. Sign up instructions are below.


When you receive your Salesforce Chatter invitation on Monday you will be taken to a sign up screen that looks like this. Please enter your first and last names, the name of your store (this should be entered in the Company Name box) and make sure your email address is correct. Click "Next."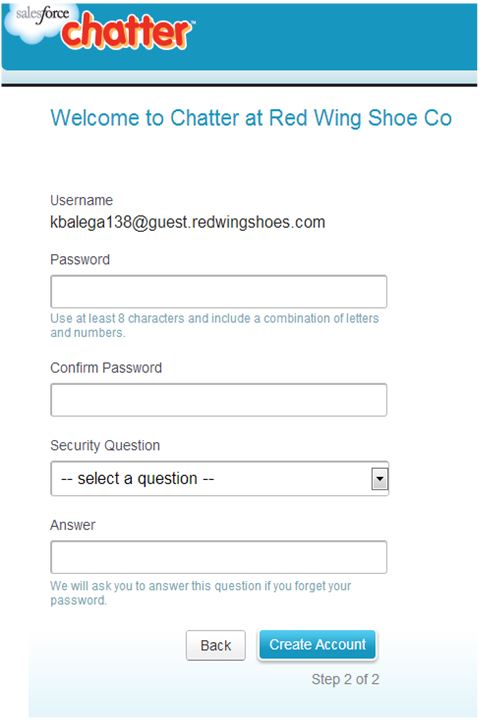 Please enter a password and confirm that password. Chose a security question and type the answer to that question. This question and answer will allow you to recover your password in the future should you forget it. Click "Create Account."

You are now a member of the RWSC Voluntary Recall Chatter group! You may be asked to register for Mobile Verification. Do not worry about this step. You can skip this step by clicking on the "No Thanks. I do not want to use mobile verification" link on the bottom of this step's page.